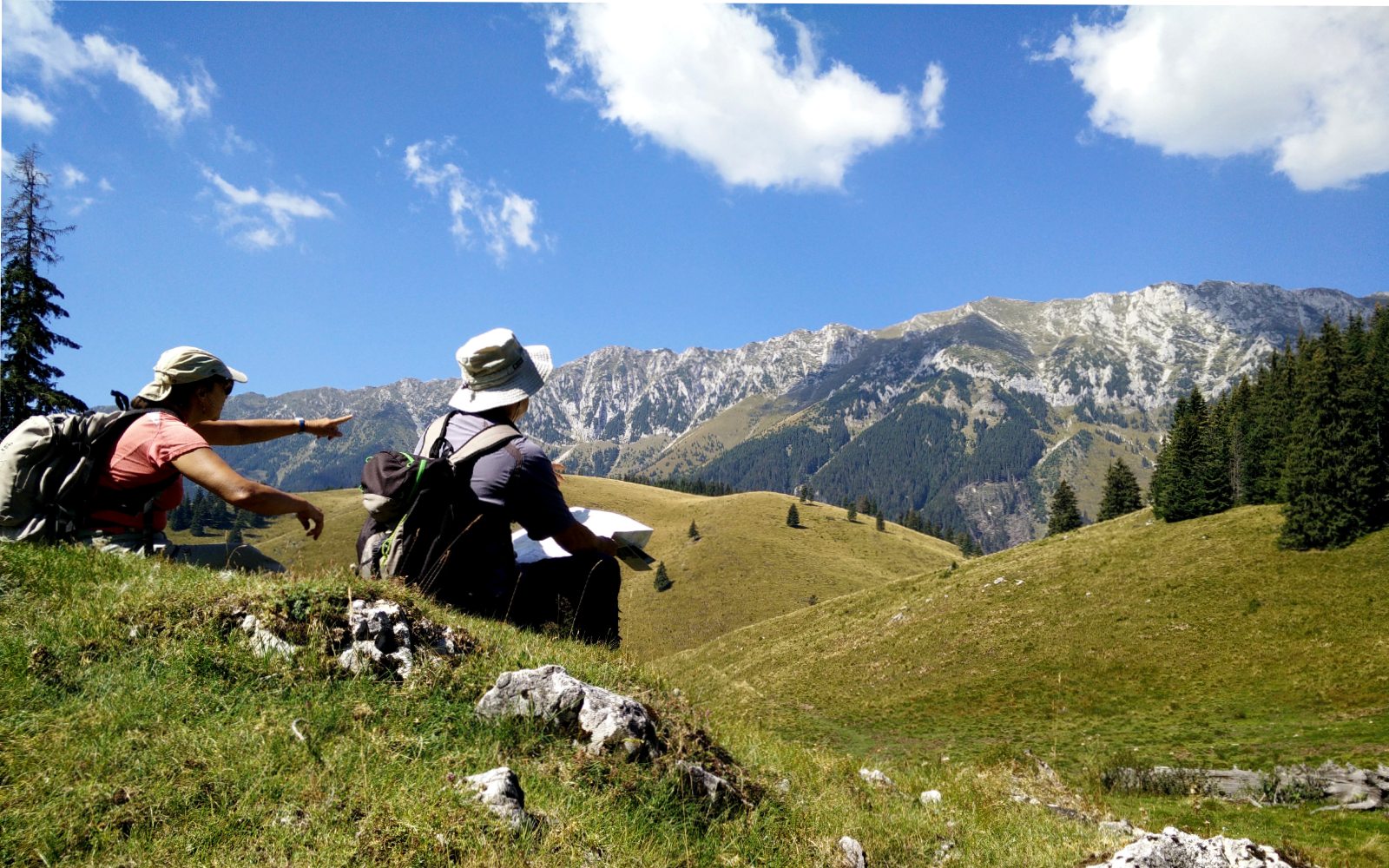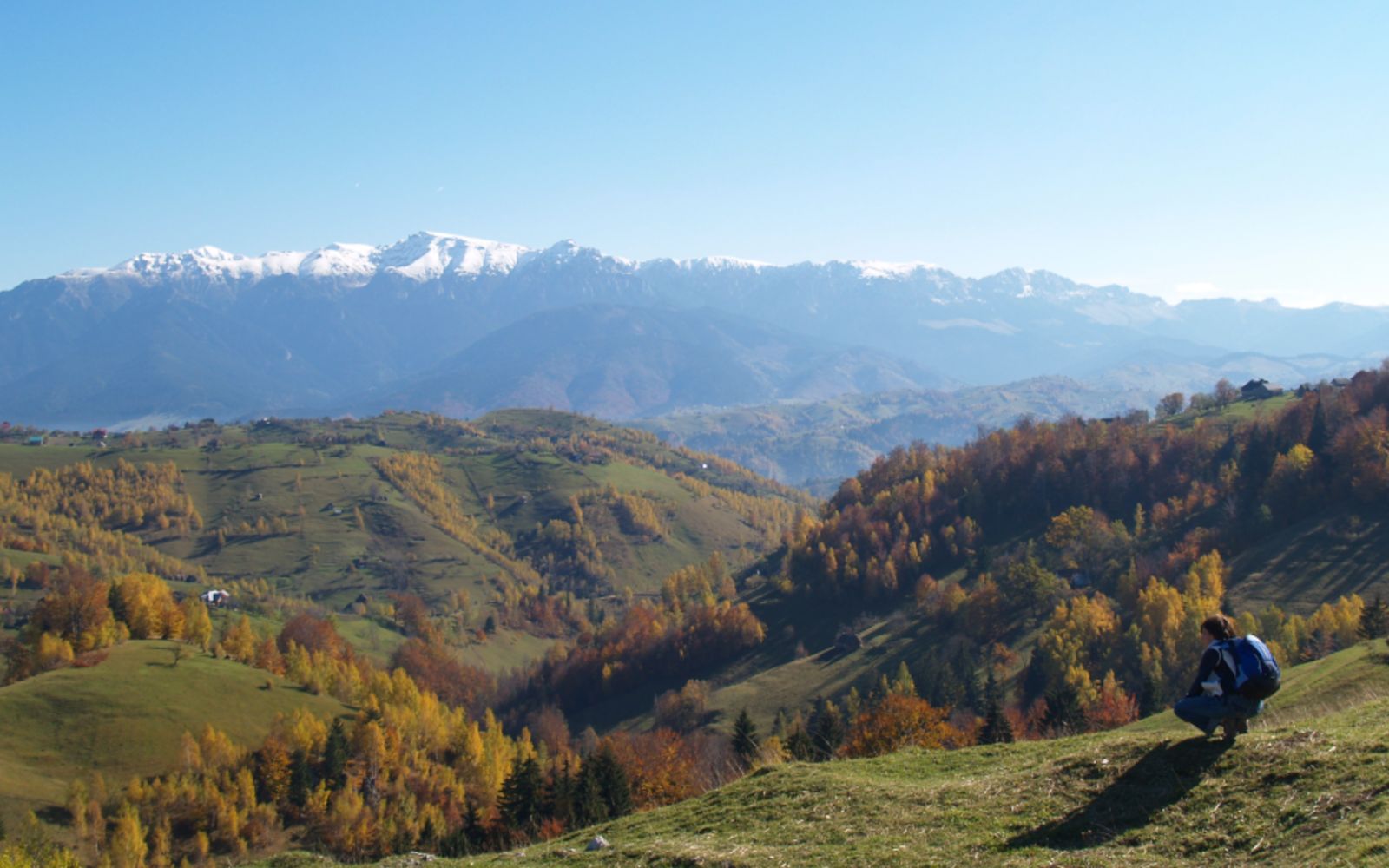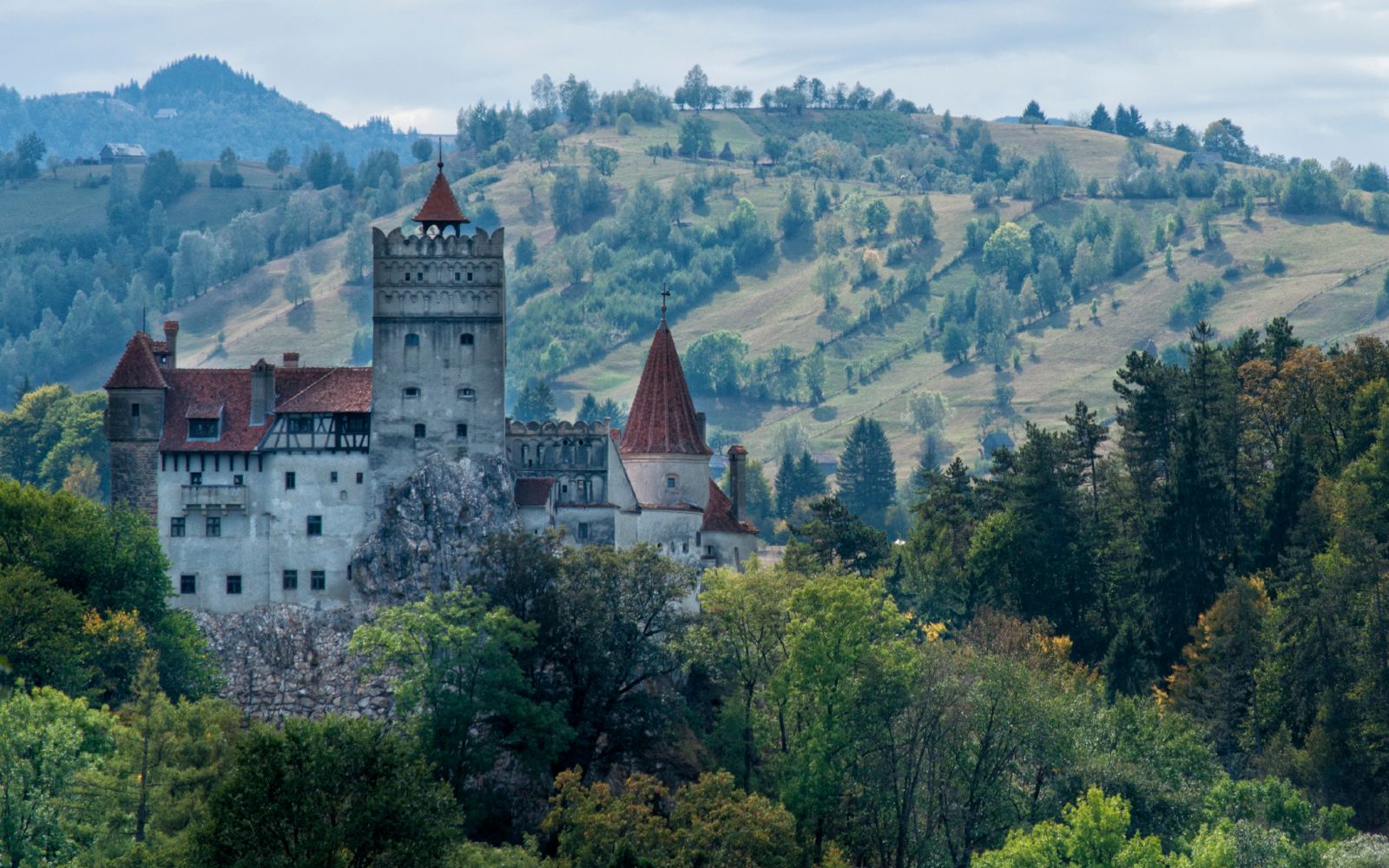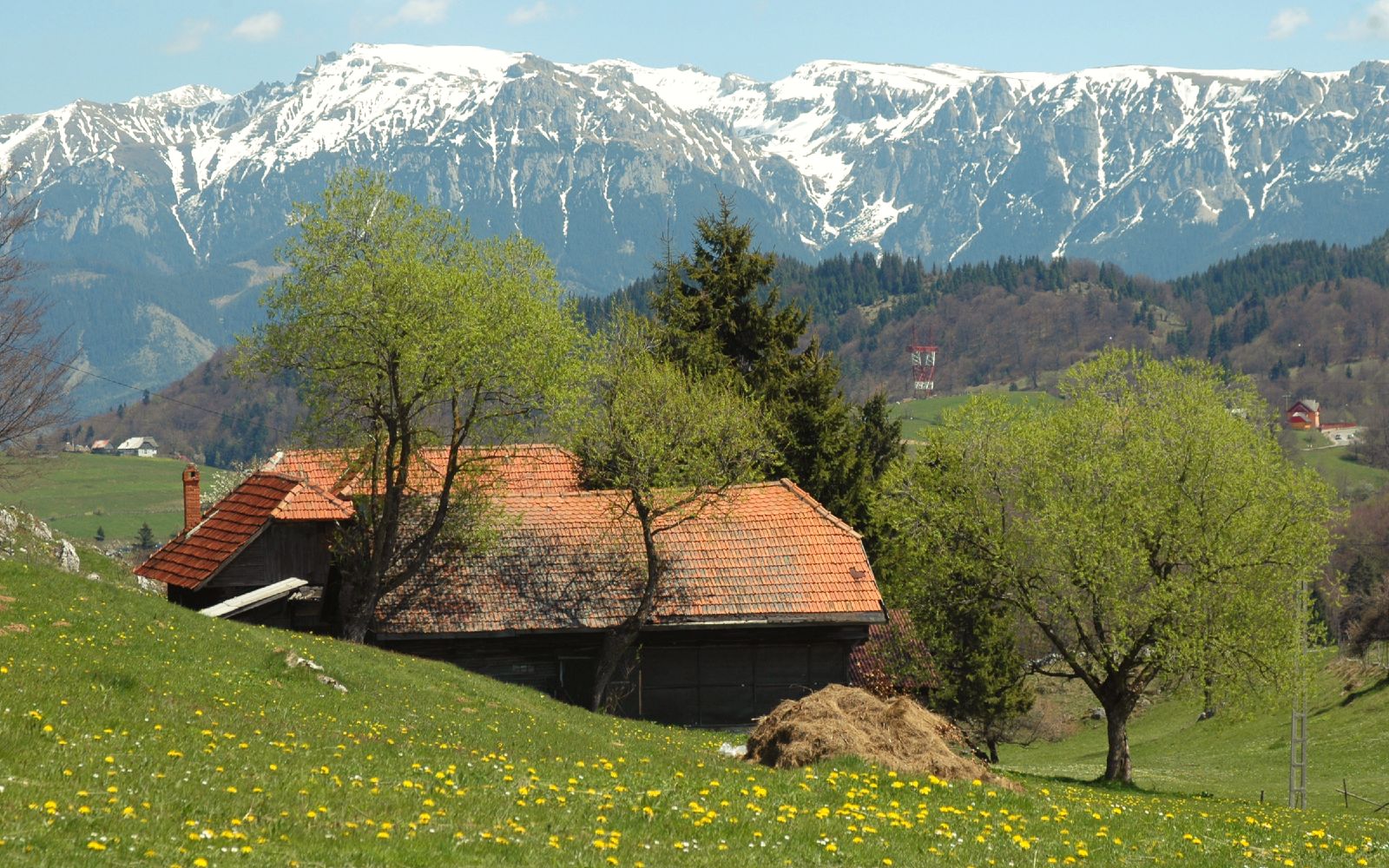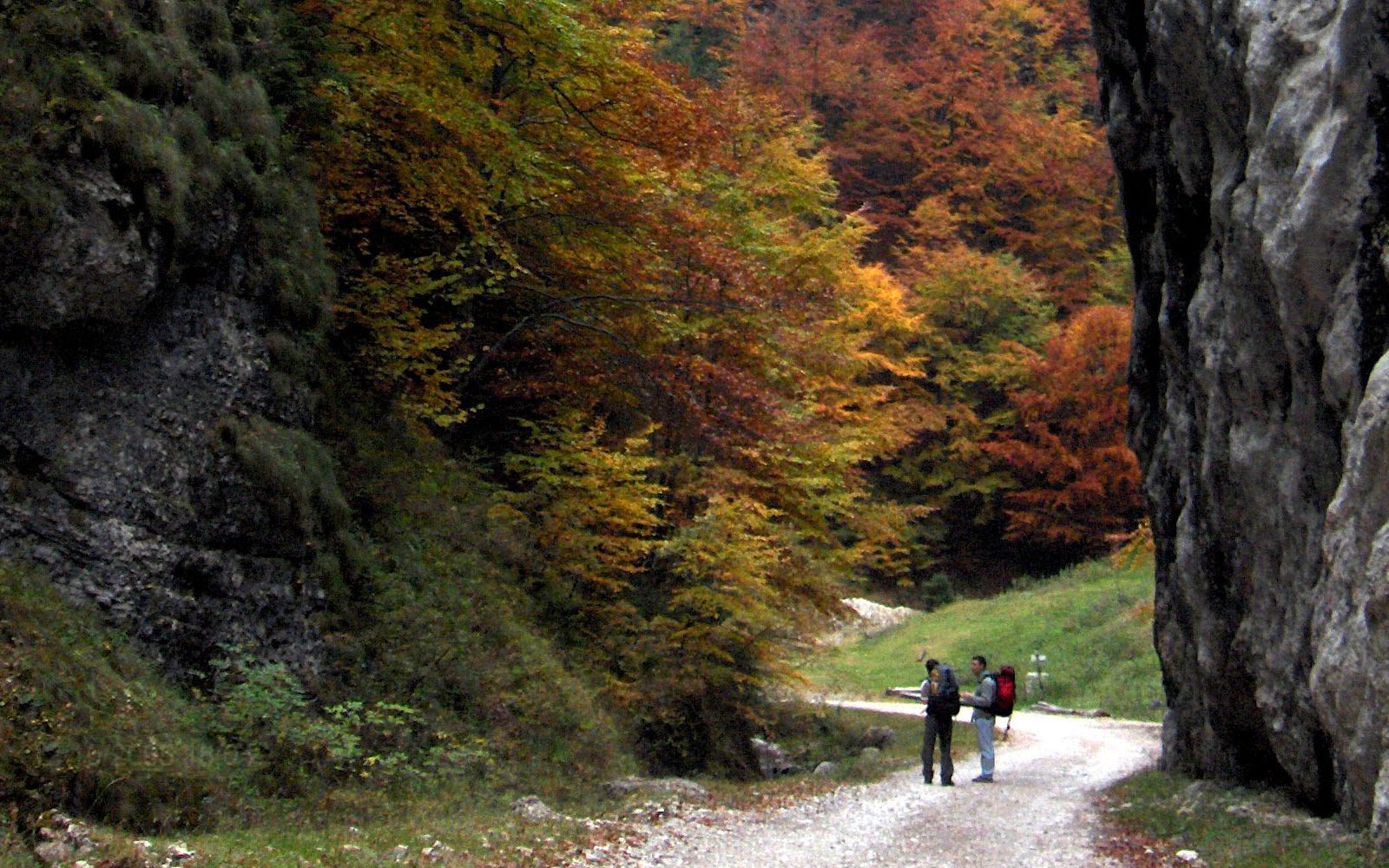 Carpathian Mountains and Castles - self-guided walk
8 days / 7 nights
Transylvania - Walking
Self-guided - Families - Singles - Comfort - Luggage transfer
This 8 days Self Guided Walking Tour is the best way for you to truly experience most authentically the Romanian Country Life! Piatra Craiului and Bucegi are some of the most popular and appreciated Romanian mountains. In Piatra Craiului, you will discover rare flora and fauna and at the feet of the Bucegi Mountains, you will see lovely pastures, and altogether spectacular landscapes amongst perched sheepfolds and medieval fortresses.


Possibility to extend your stay in Brasov or Bucharest, please contact us for accommodations.

Telescopic hiking poles are recommended!
Your day by day program
Reception in Bucharest
Our agent will meet you in Bucharest, at the North Train Station, to give you your documents (road book, maps…). You will then get on a train to Brasov (2.40hr). Once you arrive, you will change in Brasov with a train to Zarnesti (50 min). Several train options depending on the arrival flight and if you wish to stop in Brasov to visit this beautiful medieval city. Dinner and Accommodation in a lovely guesthouse in Zarnesti.
Dinner included
Zarnesti Gorges
Today you head into the heart of the Piatra Craiului National Park. Your walk starts with a nice steady climb following woodland trails that are picturesque and rich in birdsong. We end up to the lovely lunch spot at Cabana Curmatura, where you can take-in the views of the Valley and Canyon surrounding you. Lunch will be a real delight today with local soup and an amazing apple pie. Fill up from lunch you can either take a detour to a pass offering beautiful views, either make your way downhill through open hills before entering a large wooded area along the river. We will follow an old track to The Jurassic Zarnesti Canyon.
Approx 5h, 15km, +800m, -500m Breakfast, packed lunch and dinner included
Bran castle
Today you will walk on a small ridge going down to Bran castle. This castle was built in the 14th century and had a role of defense against the migratory people. Later it protected Transylvania from the Ottoman invasions. The castle was also associated with the fictional character of Dracula, who was based on the prince Vlad Tepes of Wallachia. Transfer to the same guesthouse as the night before.
Approx. 4-5h, 11km, +300m, -600m Breakfast, packed lunch and dinner included
Pastures and forests in "Piatra Craiului" National Park
Trek in the National park of Piatra Craiului till the south of the limestone ridge. In this bucolic landscape we find our way in the middle of pastures, sheepfolds and woods. We will end the stage in a rustic scattered village which seems not to care about the fact that time is passing. Overnight in a welcoming guesthouse.
Approx. 5h, 15km, +700m, -550m Breakfast, packed lunch, dinner included
Scattered villages
Leave the Piatra Craiului mountains. An easy walk with "picture post-card" landscapes through scattered villages with small and ancient houses, at the foot of Bucegi mountains. The inhabitants are livestock breeders; therefore the village has a long time tradition in cheese preparing.
Approx. 4h, 13km, +350, -500m. Breakfast, packed lunch, dinner included
Bucegi's mountains
Trek towards the Bucegi massif. A long hike which you will not regret: magnificent landscapes and sights of the Piatra Craiului's crest.
Approx. 6h, 15km, +700m, -900m (Possible shorter walk 4h, 12km, +400m, -700m) Breakfast, packed lunch, dinner included
Meadow of Gutanu
Continue to hike in the Bucegi mountains. A trek along the meadow of Gutanu and the vertical walls of the Bucegi's crest. Starting with June you can find the shepherds with their flocks and maybe even ask to taste the cheese they prepare. Take the time and enjoy these landscapes.
Approx. 6h, 18km, +700m, -900m Breakfast, packed lunch, dinner included
End of the journey
Today you will get a private transfer to Brasov and then you'll get on the train to Bucharest. End of the journey
Breakfast included
Departure board
Every day from April to October, subject to availability of accommodation, response within 48 hours, from Monday to Friday.
Technical information
Accommodation
7 night in lovely guesthouses, in double rooms with showers and toilets (except 1 night with sanitary in common).
Level of difficulty
8 days / 6 days of walking. Medium level of walking with a maximum day at 6 h.
Carrying
The transfers of your luggage is ensured. You only have to carry your things needed for the day (picnic, camera...)
Options:
Single supplement per person (price per person, for min. 2 travelers) : 90€
Private transfer: Bucharest airport to the train station or center, for 3 people (45 min)
: 30€
Departure at 1 person (only for very experienced hikers) : 145€
Included
7 breakfasts, 6 picnics, 7 dinners
All accommodations
J1 and J8 transfers by train
Baggage transfer
The guidebook
Hiking maps
Assistance always reachable
Not included
Transport to the meeting point and from the point of dispersion (North Train Station)
The insurance
The drinks, other than water
Personal expenses
Site visits
Souvenirs
Map
Similar holidays