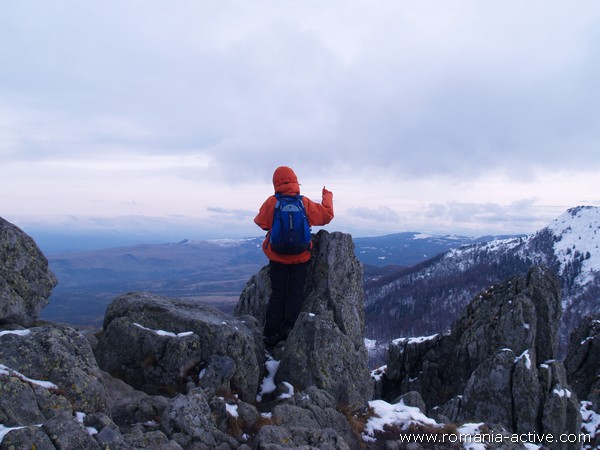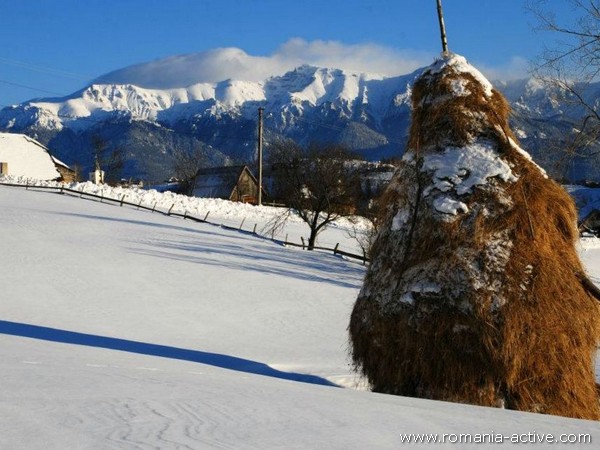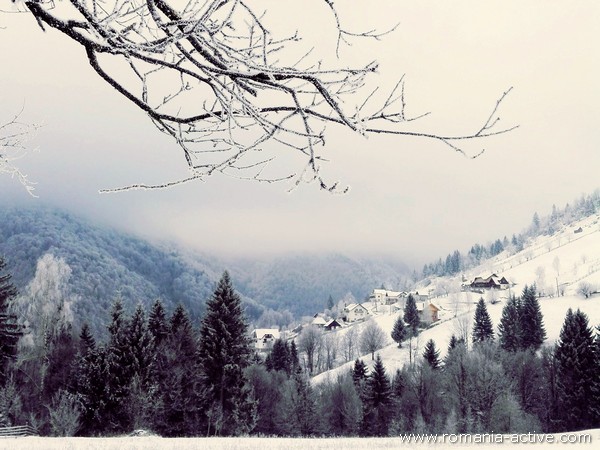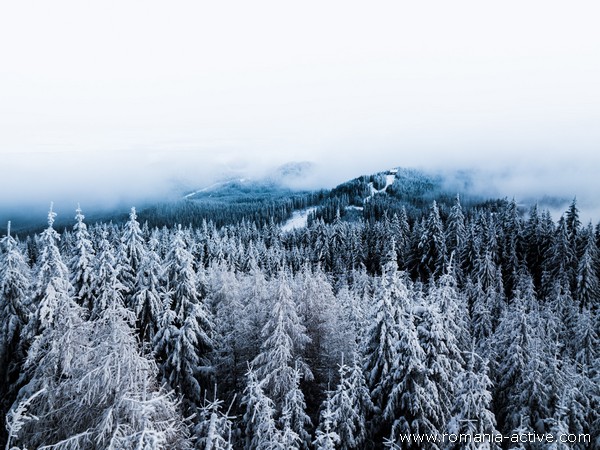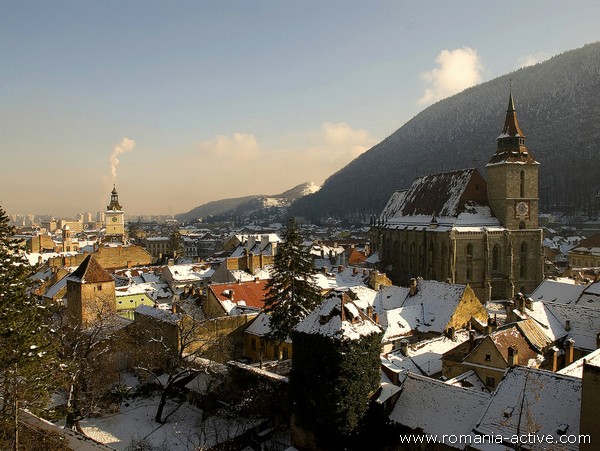 Snowshoeing in the Carpathian Mountains
8 days / 7 nights
Transylvania - Snowshoeing
Guided - Families - Singles - Comfort - Luggage transfer

Last updated: 27/11/2021
With this 8 day, Guided Snowshoeing Tour you will discover the most beautiful Carpathian winter in snowshoes! A wonderful active adventure that will have you discover the most beautiful regions of the Carpathians, Piatra Craiului and Bucegi. These two offer the perfect setting for a most unforgettable hike. You will be stunned by the lovely rural areas which will plunge you into a traditional and almost forgotten world. A magical journey awaits you!
Depending on the weather conditions, the route may be slightly modified. For smaller groups, some transfers can be made by train.
Your day by day program
Arrival in Bucharest
You will arrive in Bucharest and we will welcome you at your hotel. Accommodation in a central 3* hotel in Bucharest. If you request, we can arrange for a private transfer from the airport to your hotel.

Traditional villages
We begin the day with a private transfer from Bucharest to Fundatica (~3.5h). Today we will have a splendid winter trekking which will take us across a few villages, still in complete harmony with the surrounding nature. Amongst them we will have a closer look at the village of Fundatica which is a lovely little village in between Piatra Craiului and Bucegi. Famous for its smoked cheese, this village will give us the opportunity to have a proper traditional cheese tasting at the home of a kind local who will tell us interesting stories about the life in the village. Dinner and overnight in a cosy traditional guesthouse at the foot of the Bucegi massif.
Breakfast, lunch & dinner included.
Snowshoeing: approx. 3h5, +100/-400m.
Bucegi Natural Park
Today's walk will take us straight into the wonderful Bucegi Natural Park. We will be stunned by the postcard scenery from the foot of Bucegi' spectacular ridge. This wonderful place will also offer us amazing views over the King`s Rock Mountains (Piatra Craiului). Prepare to be amazed! Night at the same guesthouse as the day before.
Breakfast, lunch & dinner included.
Snowshoeing: approx. 5h, +/-650m.

The King's Rock
Today we will visit one of the most traditional villages of the Carpathian Mountains. We will follow mysterious paths through dense woods, pierced by bright meadows and they will lead us to the pristine National Park of Piatra Craiului (King's Rock). Prepare to be mesmerised! Dinner and overnight in a traditional lovely guesthouse in Magura.
Breakfast, lunch & dinner included.
Snowshoeing: approx. 4-5h, +500/-300m.
Top of the King's Rock
Since Magura village is one of the most beautiful villages in Piatra Craiului, we most definitely need to take advantage of its peak and take in the most stunning views from its top. Unbelievably beautiful sceneries of the surrounding villages and the ridges of Bucegi and Piatra Craiului ridge are plentiful for us today!
Breakfast, lunch & dinner included.
Snowshoeing: approx. 4h, +/-400m.

Curmatura Hut
For today's adventure, we have a longer walk in store, which will lead us to the traditional alpine hut of Curmatura. After reaching the valley, we will have a steady climb to a beautiful meadow rich with panoramic views over the ridge. From there on we will follow an easy trail in the woods which will bring us to Curmatura, where a fire and a tasty meal will be ready for us. After filling up, we return to the valley, passing through the amazing gorges of Zarnesti. Stone walls high as 200m will stun us while crossing the canyon. We will then be privately transferred to the beautiful city of Brasov. Accommodation in a charming hotel, in the heart of the historic center.
Breakfast & lunch included.
Snowshoeing: approx. 5h, +550/-750.

Return to Bucharest
We will visit Brasov in the morning and at midday we will board a private transfer going from Brasov to Bucharest. We will have a short stop in Sinaia, the former residence town of the Royal Family of Romania. We will be arriving in Bucharest during the late afternoon. You will have the rest of the day to discover the ecclectic capital of Romania, Bucharest. Accommodation at a nice 3* central hotel in Bucharest.
Breakfast included.
End of the journey
After your breakfast our adventure will end. If you need, there are private transfer available, on request. Breakfast included.
Departure board
Other possible departures for groups already formed.
Departures for groups formed on request
Technical information
Starting point
At your hotel in Bucharest on Day 1.
End
After your breakfast at the hotel on day 8. Private transfer to the airport optional.
Accommodation
4 nights in guesthouses in traditional mountain villages (double rooms with showers and WC)
1 night in a 3 * hotel in Brasov
2 nights in a 3 * hotel in Bucharest
Number of people
Minimum of 5 people. Maximum of 10
Level of difficulty
5 days of snowshoeing. Medium level (accessible to anyone walking regularly in the year). Maximum of 5 hours of trekking per day.
Carrying
During the hikes the luggage will be transferred between the accommodations by car. Just carry your essentials for the day (eg picnic, camera)
Options:
Snowshoes rental (without trekking poles) : 55€
Trekking poles : 20€
Single supplement : 105€
Transfer from/to Bucharest airport to Bucharest centre - max. 3 people : 35€
Small group departure supplements: 4 people departure (per person) : 100€
Small group departure supplements: 3 people departure (per person) : 160€
Small group departure supplements: 2 people departure (per person) : 350€
Included
English speaking guide (Day 2- Day 7) with a first aid kit
accommodation (Day 1 - Day 7)
meals (7 breakfasts, 5 picnics and 4 dinners)
all transfers (Day 2 - Day 7)
Not included
snowshoe and stick rental
entry fees to attractions
articles of personal nature
drinks, other than water
Map
Similar holidays